5 Essential Considerations for Label Verification
Welcome back to our series of blogs on label verification.
This time we will be looking at five essential things to consider when implementing an ideal label verification system, covering component considerations as well as deciding which approach is the right one for your industrial application.
Which approach is right for you?
The main question here is to weigh up whether you want to buy an all-in-one label verification solution, or source the individual components to design and build an original system yourself.
All-in-one label verification solutions
The most convenient option for most end users would be a ready-to-deploy label verification system. At ClearView Imaging we do offer our own range of Checkmate label verification vision systems, but the point of this blog post is to encourage you to think about what you will need.
What are your agreed margins of error? What speed does your line run at? What does your line look like – would most all-in-one solutions be compatible, or is it different to most lines?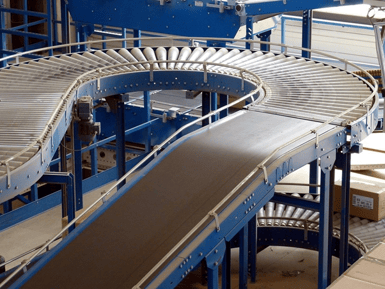 Building your own label verification solution
There are a range of components and parts you will need to consider for a label verification solution – we will cover this further down in the 'Hardware' section.
What methods are used?
To help prevent these penalties, factories can implement on-line and off-line label verification, utilising either machine vision or autocoding (barcode readers). Each of these approaches will benefit from software to process this information.
On-line label verification
On-line label verification is the practice of implementing a vision system physically on a production line to check the labels of products as they pass through on the conveyor belt.
Off-line label verification
Off-line label verification is a method of quality assurance through random product inspection. In practice this is where a pack is periodically taken off the line and placed under a static vision system. By checking the quality of every 100th or 1,000th pack, for example, factory line managers can mathematically gauge the error rate on fast-moving lines without heavy disruption.
Machine vision label verification vs Autocoding label verification
Machine vision has a qualitative advantage over autocoding, as an image will give far more accuracy in label validation than line-based information. Combined with vision backend software, a machine vision label verification approach is the better contender at solving label problems.
Barcodes only make up a proportion of what can be seen on a label, and so by opting for an autocoding-based approach, you are potentially limiting the size of the net to catch errors with.
That being said, if your product packaging is simpler, and the only parts you need to check are barcodes, then autocoding does have its advantages. Data, for one, is a huge consideration that many factory managers will have to think about. Barcode image capture sizes are far smaller, and so there will be far less data to worry about.
If your label verification system is processing two packs per second, and running 9 hours a day, that's 64,800 images per day. Choosing between machine vision and autocoding also carries the decision of storing a few hundred megabytes each day, versus potentially hundreds of gigabytes, depending on compression.
Software
Factory automation requires highly capable software, and label verification software needs to be able to keep up with fast-moving factory lines. This means it must be capable of processing packs at high rates and be strong enough to face uneven illumination and challenges like pack rotation or side-to-side placement on the line.

Label verification software recognising and passing printed information on a pack.
It also needs to be able to communicate with the different ERPs and databases in the company. Matrox offer a good vision backend for the software, with industry proven algorithms that can help face these challenges.
Check out our demo of the LUCID Triton with Matrox SureDotOCR to read character strings
Hardware
Based on what we have discussed so far, if you are building your own machine vision system for label verification, you will need to think about not only your choice of camera, lens, illumination and embedded system, but also all the parameters we covered in our optics series (Part 1, Part 2) – this will ensure you are getting high-quality images from your system.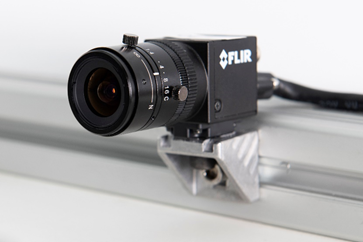 FLIR's compact Blackfly S Series
The more detailed the packaging labels you are processing, the higher resolution you will need from your camera and lens. Illumination will need to aid your image quality whilst combatting distortion and vignetting.
If you have any questions, queries or concerns, don't be afraid to contact us – our friendly team of engineers and machine vision experts will be happy to assist you.
Physically implementing and mounting your label verification system
Once you have planned and designed your system, you will need to consider where it will be best placed along your factory line.
Generally speaking, the closer to the very end, the better – this will ensure that errors are caught before they leave the door, and that none can be created in later processes.
Vision Solutions from ClearView Imaging
We understand that implementing a label verification system is a careful operation with many factors to consider. At ClearView Imaging, not only do we provide the solutions you will need for your production line, but we also have a great team of technical engineers and vision experts with the knowledge and experience to help you with label verification procedure. Whatever the question or query, feel free to get in touch via our contact page.
Stay tuned to this series of blogs as we continue to explore label verification in a variety of machine vision and factory contexts.
Whether you're an OEM, a system integrator, engineer or even an end user, be sure to check our great range of machine vision products for the best machine vision components on the market.