10GigE & 25GigE Interfaces for Machine Vision
Welcome back to Clearview blog! Here you'll find regular articles about the latest in machine vision, including the latest breakthroughs in cutting-edge technology, technical theories, and insightful discussions on all things related to machine vision.
Last week, we took a look at how 2.5GigE and 5GigE are relaying the foundations for the interface ecosystem, and before that, explored GigE and USB3 frame grabber options, as well as how CoaXPress interfaces compare against these connection types.
This week, we will be talking about the fastest, most powerful GigE interfaces, suitable for the highest calibre applications: 10GigE and 25GigE.
If you're new to these topics, and find yourself asking 'Which interface is right for me?' or 'What is a frame grabber?', then be sure to check out our dedicated overview of frame grabbers and interfaces.
The high-power gigabit standard: 10GigE
When GigE first arrived on the scene in 2006, it changed the machine vision game. Familiar RJ45 connectors, low latency, and plug-and-play functionality thanks to the introduction of GenICam made this interface extremely popular in machine vision projects.
Then came 10GigE. This was a big step up from standard Gigabit Ethernet (1GigE) connections, not only supporting a bandwidth of 10 Gbps over cable lengths of up to 100m, but being lower latency than 1GigE as well.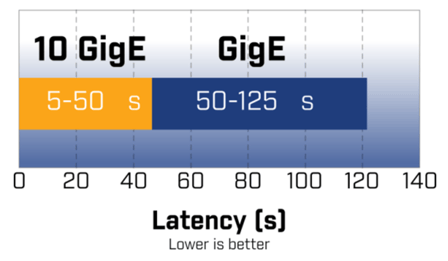 10GigE is ideal for applications that require high bandwidth over long distances, making it possible to take full advantage of high-performance sensors with higher resolution and frame rate, such as the Sony IMX range of sensors.
10GigE machine vision cameras
Speaking of Sony IMX sensors, here are some examples of sensor resolution and frame rates available with 10GigE:
Sony IMX252 3.2MP at 216 fps

Sony IMX250 5.0MP at 163 fps

Sony IMX420 7.1MP at 112 fps

Sony IMX255 8.9MP at 93 fps

Sony IMX253 12.3MP at 68 fps

Sony IMX530 24.6MP at 44 fps

Sony IMX342 31MP at 26 fps
You might be wondering which cameras pack these configurations? They're actually all Oryx 10GigE models from Teledyne FLIR.
Oryx 10GigE – Teledyne FLIR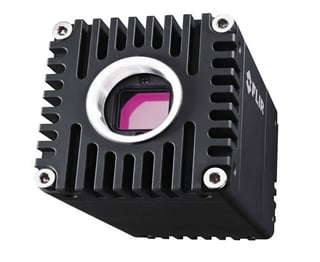 Oryx 10GigE from Teledyne FLIR


The award-winning Oryx 10GigE camera family allows systems designers to take advantage of the latest sensors by supporting transfer speeds of up to 10Gbps. This enables the capture of 4K resolution, 12-bit images at over 60 FPS. Oryx features include IEEE1588 clock synchronization and full compatibility with several popular third-party software supporting GigE Vision.
Find out more here.
Atlas10 – LUCID Vision Labs
LUCID also offer fantastic 10GigE camera options with their Atlas10 models.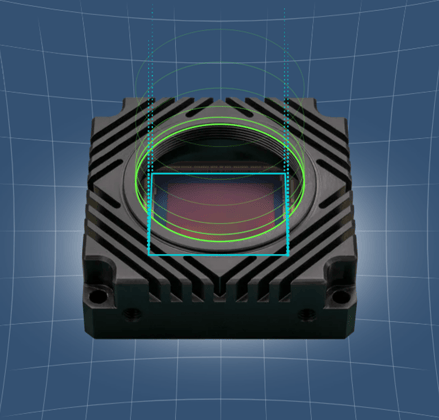 Active sensor alignment in the Atlas10 from LUCID Vision Labs
Packing fast 10 Gigabit Ethernet with Power over Ethernet (PoE) and Sony's 4th Gen Pregius S CMOS sensors, the Atlas10 delivers simplicity and performance for high-speed applications. All Atlas10 models are actively sensor aligned for maximum optical performance.
Find out more here.
Advantages of 10GigE
With 10GigE, there is no need for workarounds like complicated link aggregation systems or latency-inducing compression. The cameras are quick to set up, and no frame grabbers or additional interface cards are needed, making it easier and faster than single-lane Camera Link and CXP-6 CoaXpress interfaces. That being said, offload NICs can be extremely advantageous to those looking to use multiple 10GigE+ cameras on the same system – but more on that later.
Another big advantage of 10GigE is familiarity and ease of use. Despite improvement after improvement to gigabit ethernet connections, their visible parts are still the same after all this time - standard CAT6A and CAT5E cables with good old RJ45 connectors will mean that users don't have to keep adopting new types of cable and connectors.
GenICam compliance is another welcome feature here, allowing for quick and easy plug-and-play. 10GigE is compatible with the GigE Vision protocol, ensuring it will work with existing GigE Vision software.
Leaps and bounds ahead: the 25GigE machine vision interface
As 10GigE was the successor to 1GigE it provided the benefits of its predecessor except capable of delivering 10 times the data and frame rate. Accordingly, the 25GigE interface marks a colossal improvement here with a twenty-five-fold increase in data and frame rate capability.
As such, 25GigE offers the fastest single-link data rates of 3,125MB/s per second, compared with 10GigE's comparatively humble 1,250MB/s.
What's more impressive is that 25GigE offers connections capable of delivering stable images to a computer system up to 10 kilometres away, using advanced cabling technologies built with SFP28 fibre cables and step-up transceivers.
25GigE machine vision cameras
As a fairly new standard, there are not many 25GigE camera options on the market. This being said, LUCID Vision Labs will soon be offering an incredible camera from a trusted name in the machine vision market: the Atlas camera. Following the launch of their 5 and 10GigE camera models, the Atlas25 is their fastest, most powerful camera to date.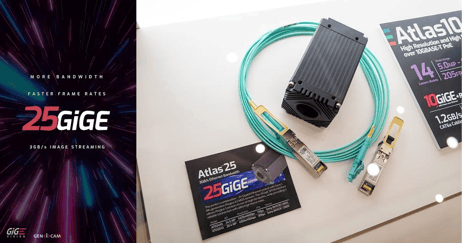 Featuring 25 Gigabit Ethernet technology paired with Sony's 4th generation Pregius S CMOS sensors, the Atlas 25GigE truly raises the roof of what is possible in machine vision. The SFP28 interface allows Pregius-S sensors to run at high speed and resolution, over long-distance cabling. The new Atlas25 is ideal for applications that demand high resolution and speed, such as virtual reality, FPD inspection, wafer processing, volumetric capture, and applications requiring multi-camera synchronisation.
With more bandwidth, faster frame rates, and staggering 3GB/s image streaming capabilities, the Atlas 25GigE is a pro-level choice for power users.
Offload NICs: how to supercharge your 10GigE & 25GigE vision systems
GigE frame grabber technologies are advancing, allowing a new category of offload network interface cards to emerge, such as the Matrox GevIQ, Teledyne FLIR . This card can offer generic GigE Vision acquisition offload at speeds up to 25 Gigabits/s per port, allowing the host PC's CPU and GPUs to function unburdened by heavy image processing.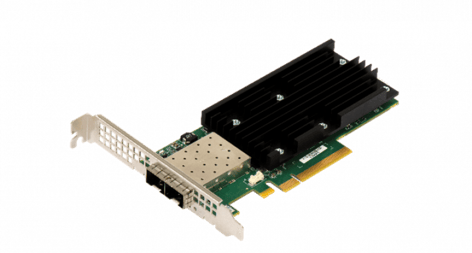 GevIQ NIC from Matrox Imaging
GevIQ can handle up to 32 cameras
Matrox GevIQ boards come equipped with two 25GigE ports and can easily aggregate multiple 1, 2.5, 5, or 10GigE cameras at each port for a total of up to 32 input sources to drive even the most complex installation demands.
All GigE platforms compared
In the last blog, we compared 1, 2.5 and 5GigE in cable length, bandwidth, and price. This week, we've added 10 and 25GigE to our comparison.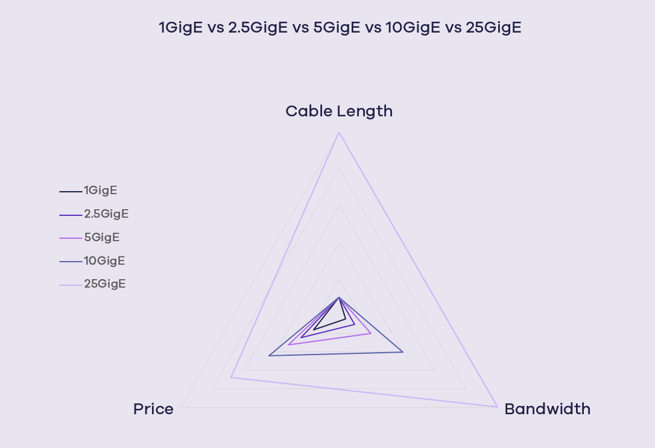 Comparing cable length, bandwidth and price across all GigE interfaces
GigE similarities & differences
Firstly, let's cover what these interfaces have in common. They all run under the GigEVision interface standard, meaning the same connection types and plug-and-play with other GenICam devices is ensured. Factors like power consumption are harder to nail down as these depend on the camera model and type of cable used, but generally is as you'd expect; slowly rising in wattage from 1GigE through 25GigE.
As you can see from our chart, the value for money continues to increase with 10GigE and 25GigE options. Considering the massive step up in cable length from 100m to 10km, almost triple the bandwidth, and at a higher price point, 25GigE is much harder to compare alongside the other four interfaces. It's truly a cutting-edge technology, suitable for the very highest specification requirements in vision systems.
10GigE and 25GigE machine vision interfaces summarised
The key details for 10GigE and 25GigE machine vision platforms are as follows:
10GigE and 25GigE are network interfaces used in machine vision applications with a ten-fold and twenty-five-fold increase in data-rate and frame rate, respectively, compared to the leading interface, 1GigE.

GigEVision, the machine vision-specific interface standard, supports both 10GigE and 25GigE cameras.

10GigE has a maximum bandwidth of 10Gbps or 1,250 Mbytes/s, while 25GigE has a maximum bandwidth of 3,125Mbytes/s, making it the industry's fastest single link solution.

Both SFP+ and RJ45 are the main connector options for 10GigE, while SFP28 is fully compatible with SFP+ for 25GigE.

The cost of cables for GigE is generally lower compared to machine vision-specific interfaces (such as CXP) due to their wide usage across multiple industries.

Power consumption varies depending on the camera model and the cable used.
A Wide World of Machine Vision Frame Grabbers & Interfaces
That's it for this series on machine vision frame grabbers and interfaces. Be sure to subscribe to our blog as we continue to bring you the right machine vision expertise and knowledge to help make the best decisions for your machine vision system.
Future Focused Vision Systems from Clearview
Want to find out more about revamping a vision system or automating industrial processes? Look no further – get in touch with us.
Also, be sure to check out our great range of smart cameras and machine vision software over in our products section!
Here at Clearview, we have a broad range of knowledge and machine vision expertise to help you decide on the right solution for your project.
We offer friendly expertise and a huge range of industry-standard quality machine vision components for printing and packaging, robotics, industrial automation, medicine, life sciences, and the automotive industry, just to name a few.
Our experts are happy to help no matter what your question or problem may be. Feel free to get in touch with us and one of our machine vision experts will be ready to help you get going with your project.