CoaXPress Frame Grabbers for Machine Vision
Welcome to this instalment of Clearview blog. In this article we will be discussing machine vision frame grabbers on the CoaXPress platform.
We will explore the benefits of CoaXPress interfaces and frame grabbers and how they compare to other types of interfaces in the machine vision industry, and delve into the technical specifications of CoaXPress, discussing the key features that make this platform a real competitor in the world of machine vision interfaces.
History of CoaXPress
CoaXPress (also known as CXP) interfaces are high-performance alternatives to traditional interfaces such as Camera Link and GigE. With their ability to transmit data at fast speeds and over long distances, CoaXPress interfaces are becoming an increasingly popular choice for machine vision applications.
CoaXPress is a standard that was developed by a consortium of companies in the machine vision industry. It was first introduced in 2007, and has since become a widely-used interface for high-speed data transmission in machine vision systems.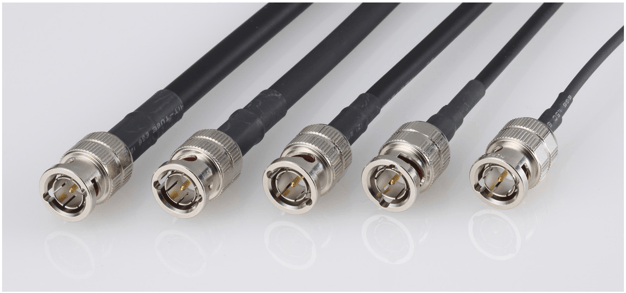 CoaXPress uses coaxial cables to transfer data
The development of CoaXPress was driven by the need for a high-speed, long-distance communication interface that could meet the demands of modern machine vision applications. Prior to the development of CoaXPress, machine vision systems often relied on parallel interfaces, which had limited bandwidth and were not well-suited for use in high-speed applications such as automated inspection systems.
CoaXPress was designed to address these limitations and provide a more flexible, scalable interface for machine vision systems. Since its introduction, CoaXPress has become a popular choice for machine vision applications due to its high-speed data transmission capabilities and its ability to transmit data over long distances.
CoaXPress Frame Grabbers
CoaXPress frame grabbers are hardware devices used to interface with machine vision cameras and transmit image data from the camera to a computer. They are specifically designed to work with CoaXPress cameras, which use coaxial cables to transmit data at high speeds.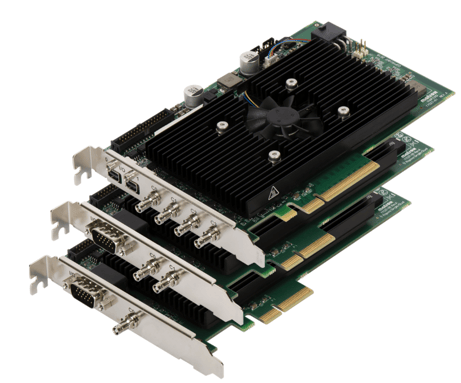 CoaXPress Frame Grabbers
They are commonly used in machine vision applications such as industrial automation, quality control, and inspection systems. CoaXPress frame grabbers can be used in conjunction with image processing software to analyse and interpret the image data captured by the camera. Some CoaXPress frame grabbers also offer additional features such as FPGA-based image processing capabilities.
CoaXPress vs. GigE & USB Vision
CoaXPress is a great alternative option to GigE and USB vision. It relies on a simple coaxial interface, capable of delivering 6.25 Gbps per cable with CXP-6 and 12.5Gbps with CXP-12.
This means that CXP-6 tops 5GigE and USB 3.1 Gen1 (which deliver speeds of up to 5 Gbps), whereas CXP-12 comes in ahead of 10GigE and USB 3.1 Gen 2 which can transfer 10 Gbps. However, cameras and frame grabbers on the CoaXPress platform can utilise multiple lanes (cables), per device, which means that a CXP-12 camera and frame grabber with 4 lanes can run at 48 Gbps – almost double that of 25GigE.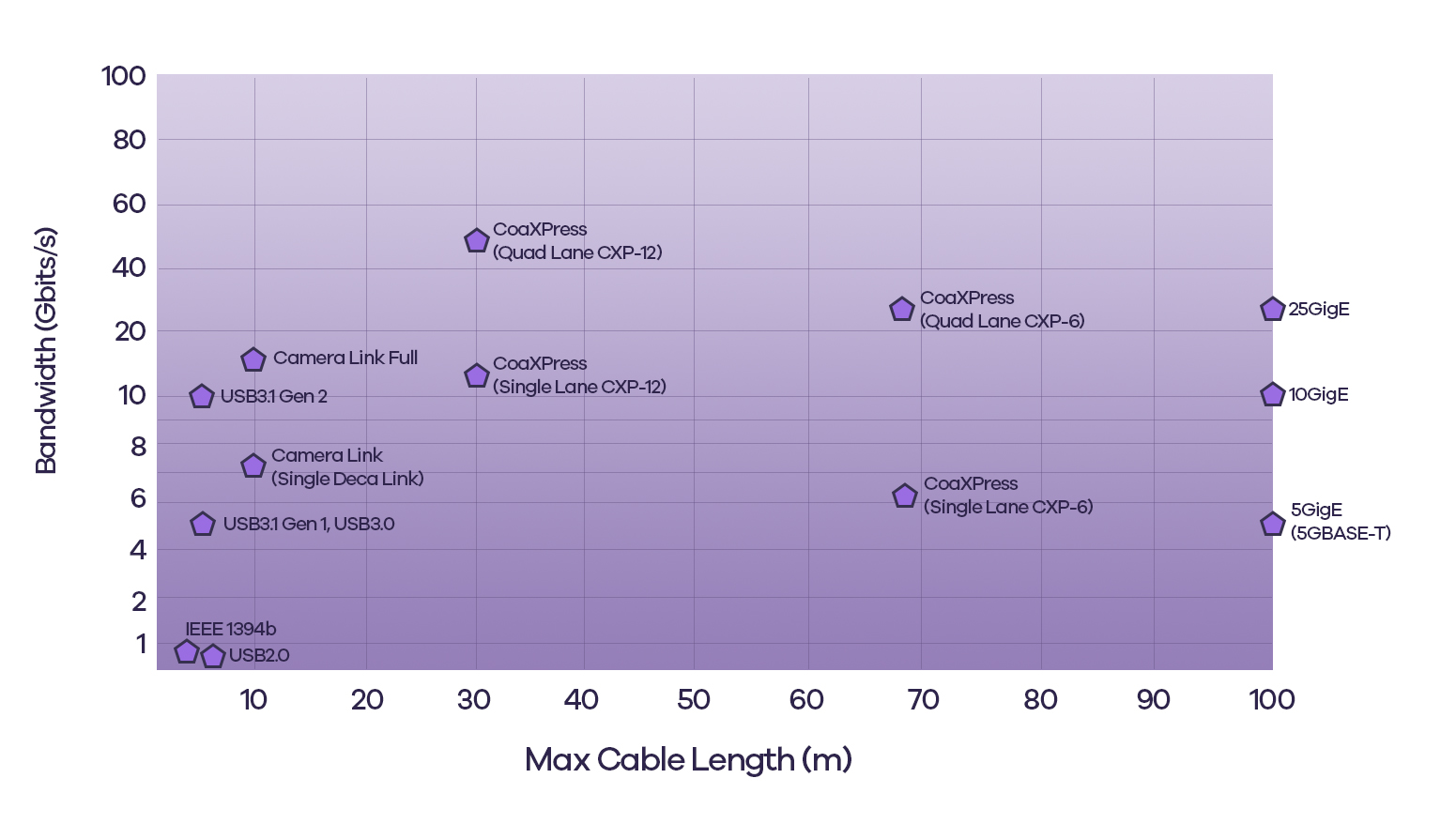 Comparison of Machine Vision Interfaces
Power over cable is also available with this interface, simplifying complexity and negating the need to run additional power cables around your project. This is perfect for systems that require compactness and logistical simplicity, such as automated vehicles. CoaXPress is also a low latency, low noise interface, which is critical in automotive applications.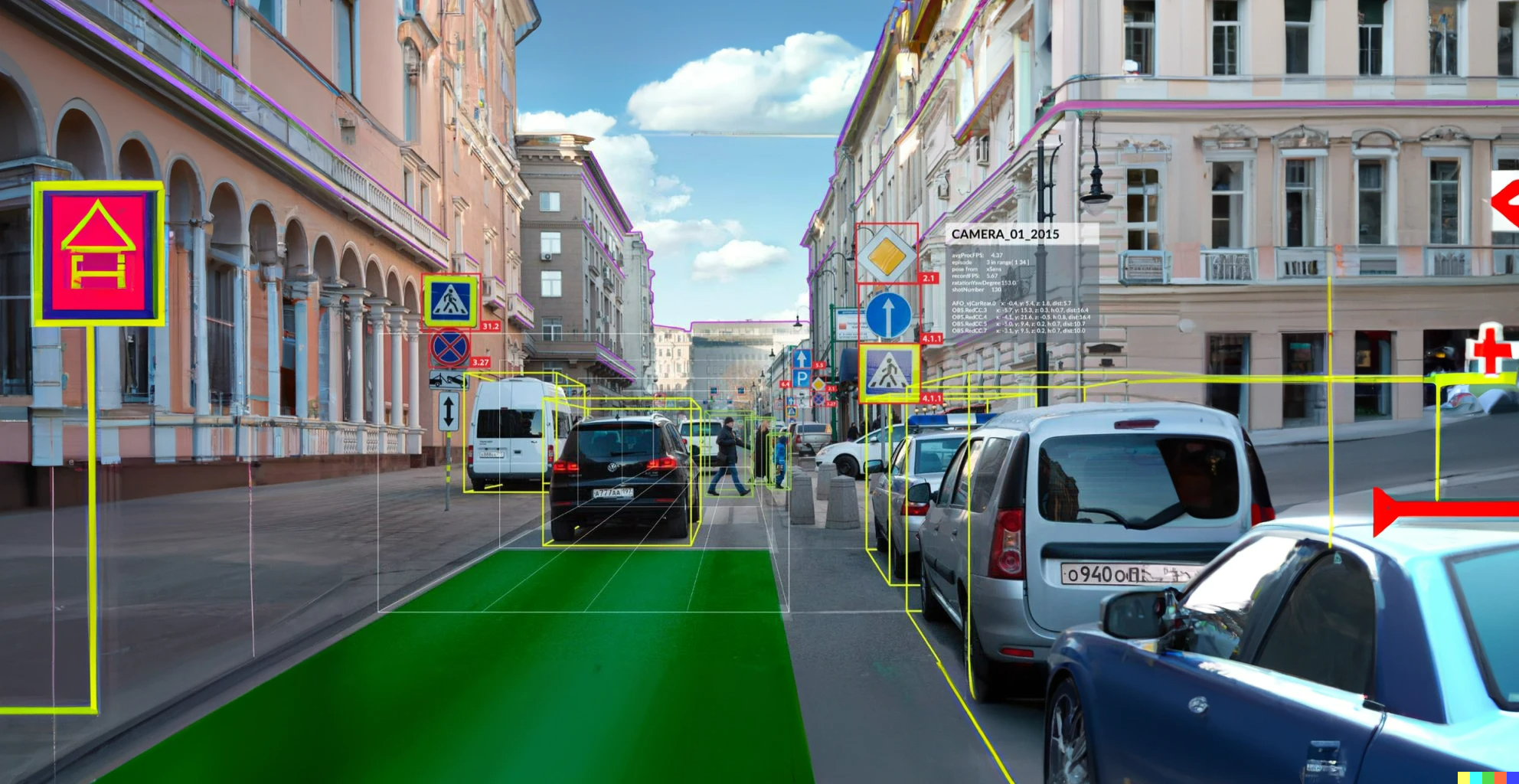 Autonomous vehicles and robotics call for logistical simplicity and fast data transfer speeds, which is perfect for the CoaXPress interface
Furthermore, with CoaXPress it is possible to run multiple cameras through one frame grabber – meaning there's no end to the potential scalability with this platform.
The Future of CoaXPress
As we look ahead to the future of this robust platform, we can see some big advancements that will put CoaXPress way ahead of the curve in the world of machine vision.
The current standard of CXP, CoaXPress 2.1, comes with features that allow the CoaXPress protocol to use a standard Ethernet connection, including fibreoptics. This advancement is known as CoaXPress over Fibre (CXPoF), and essentially combines the above advantages of CXP with the huge benefits of fibreoptic cabling.
CoaXPress Over Fibre (CXPoF)
CoaXPress typically uses copper coaxial cables to run data from camera to frame grabber. Copper is traditionally an excellent conductor, and thus is widely used in cable connections in all types of technology.

Fibreoptic cables use glass or plastic strands to transmit data in the form of pulses of light, and thus are able to pass information very quickly.
Bundling these strands in the hundreds results in a fibreoptic cable that can outperform copper cables in three main categories:
Much higher speed & bandwidth

Far greater cable distances

Vastly cheaper than copper
CXPoF: Speed & Bandwidth
The net bandwidth of CXPoF matches that of CXP-12 at 48Gbps. The main advancement however is that this bandwidth is actually achievable over a single fibreoptic cable with a Quad Small Form Factor Pluggable (QSFP+) transceiver module, rather than four CXP-12 connections. This means future applications will have far less complex cabling and space requirements, freeing decision-makers from the hinderance of the current relative logistical difficulties.
CXPoF: Cable Distance
Another huge advancement will be cable distance as a result of fibre.
Fibreoptic cables come in two types: Single Mode Fibre (SMF) and Multi-Mode Fibre (MMF). The difference between them is the size of the cable's core; SMF has a very narrow core, and thus is better suited for running lower bandwidths over a very long distance, whereas MMF utilises a much thicker core to deliver high bandwidths over comparatively shorter distances.
CXPoF is expected to perform outstandingly compared to copper; both SMF and MMF dwarf CXP-6 and CXP-12 for expected cable distances:
| | | |
| --- | --- | --- |
| | CXP-6 | CXP-12 |
| Copper | 67m | 30m |
| | | |
| --- | --- | --- |
| | SMF | MMF |
| Fibreoptic | 80,000m (80km) | 300m |
These figures are truly humbling, and may come as a surprise to those have ruled out CoaXPress next to the current long-distance option of GigE. These immensely powerful cables surely must break the bank, right?
CXPoF: Cost Benefits
CXPoF is much cheaper than traditional copper coaxial cables as it is able to utilise the networking components of Ethernet, and these savings are felt most when it comes to cable costs.
For instance, one 30m quad CXP-12 cable can cost between £450-£500, while a 30m QSFP+ active optical cable tends to only cost around £100.
Looking ahead, it's quite possible we'll see CXPoF become the dominant standard for CoaXPress due to these seemingly endless and vast advantages over current interface options.
A Wide World of Machine Vision Frame Grabbers
Stay tuned with this series as we explore these formats in greater detail, bringing you the machine vision expertise and knowledge to help make the right decisions for your machine vision system.
Future Focused Vision Systems from Clearview
Want to find out more about revamping a vision system or automating industrial processes? Look no further – get in touch with us.
Also, be sure to check out our great range of smart cameras and machine vision software over in our products section!
Here at Clearview, we have a broad range of knowledge and machine vision expertise to help you decide on the right solution for your project.
We offer friendly expertise and a huge range of industry-standard quality machine vision components for printing and packaging, robotics, industrial automation, medicine, life sciences, and the automotive industry, just to name a few.
Our experts are happy to help no matter what your question or problem may be. Feel free to get in touch with us and one of our machine vision experts will be ready to help you get going with your project.