2.5GigE & 5GigE Interfaces for Machine Vision
Welcome to this instalment of Clearview blog. In this blog post we will be talking about the relatively new 2.5GigE and 5GigE machine vision technologies, and how these compare with standard (1)GigE. More specifically, we'll be unravelling why these two platforms are uniquely advantageous for OEMs compared with the current line-up of machine vision interface options solutions.
Entry level: 1GigE
Typically, 1GigE has been the entry level for those building machine vision systems. It entered the arena in 2006, and since then, has had many improvements and seen more powerful versions raise the ceiling of what is possible with gigabit ethernet connections in machine vision. We can look at 1GigE as the founding father of later GigE interfaces, the groundwork upon which all future iterations of the standard will be developed.
Unfortunately, as time moves on, 1GigE will continue to face insurmountable challenges that drive users to switch to a more capable interface. By today's needs in terms of bandwidth, 1GigE is losing its footing as even basic applications are demanding more than what 1GigE offers.
Stepping up: 2.5GigE
In light of this, the 2.5GigE platform seeks to offer a revolution within entry-level modern machine vision with its potential to redefine the base GigE transfer rate. Many machine vision technology manufacturers are now getting ready for this new machine vision standard to, in time, replace 1GigE, and are developing products with the power to save time, money, and hassle for countless OEMs and end users.
1GigE with Compression vs Out-of-the-box 2.5GigE
A really common 'hack' we see with 1GigE users is compression, which for many systems is a necessary measure taken in order to get reliable transfer speeds for high-resolution and/or high frame rates using 1GigE.
Those looking to compress their 1GigE image streams will want to consider cameras compatible with Turbodrive from Teledyne Dalsa. It's a feature designed to break through 1GigE limitations, increasing throughput by 20-150% whilst retaining 100% of image data and conveniently not requiring the user to change their hardware or software. The Blackfly S GigE range of cameras from Teledyne FLIR is also a strong option worth mentioning here, as these feature configurable lossless compression straight out of the box.
Whilst in theory, compression is a great idea, in practice it tends to take up considerable CPU/GPU usage. This means it isn't a perfect solution, but more a case of shifting the problem from one area to another. And as image processing functions (such as those that utilise deep learning) become more powerful, eventually the downside of compression will rear its ugly head and the limitations of 1GigE will no longer be avoidable.
The 2.5GigE platform solves this problem. With transfer speeds of over 300MB/s, it is more than capable of delivering higher bandwidth imaging required by the latest camera sensors and complexity of applications.
Best 2.5GigE Camera
The new Triton2 IP67 2.5GigE camera features 4th Gen Pregius S sensors ranging from 5.0-24.5 MP, allowing for higher resolution and frame rates over Cat5e/Cat6 cabling.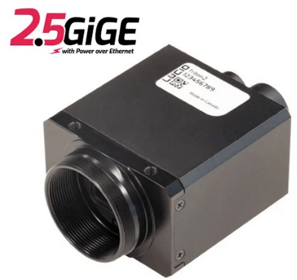 Triton2: World's First 2.5GigE Industrial Machine Vision Camera
With a compact 29x44x45mm size, 250% the bandwidth of 1GigE, Power over Ethernet (PoE), and excellent price-performance, Triton2 is a really nice upgrade from 1GigE cameras and a good alternative to USB 3.0.
Why 5GigE?
The main benefit of 5GigE cameras is that they exist in a 'sweet spot' between 1GigE and 10GigE. 1GigE cameras tend to be compact in size, but fall down in bandwidth, with a maximum theoretical transfer rate of 125MB/s. This was sufficient for older CMOS and CCD sensors, but as newer CMOS sensors are incredibly fast and deliver a much higher resolution than ever before, the 1GigE platform is quickly becoming a choke point as we move further into the age of Industry 4.0.
10GigE cameras on the other hand excel in bandwidth, with huge transfer rates of up to 1.25GB/s – however with this awesome power comes a price, as they can be bulkier and more power-intensive. 10GigE isn't needed for every application, and so a halfway point between the two interfaces has made itself clear as a gap in the market.
Best 5GigE Camera
The Teledyne FLIR Forge 5GigE aims to close shut this gap, without the need for 1GigE cameras with onboard compression, delivering impressive bandwidth in a more compact form factor than 10GigE offerings.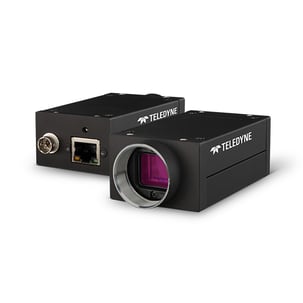 With 5MP resolution, frame rates of up to 120fps and a Sony IMX54 sensor, the first iteration of the Forge is a great all-rounder, and will soon be joined by further models with high resolution and frame rate options.
The Forge 5GigE also supports link speeds of 1, 2.5, and 5GigE, making it an extremely capable camera platform for those looking to add flexibility to vision systems that already use these GigE interfaces.
1GigE vs 2.5GigE vs 5GigE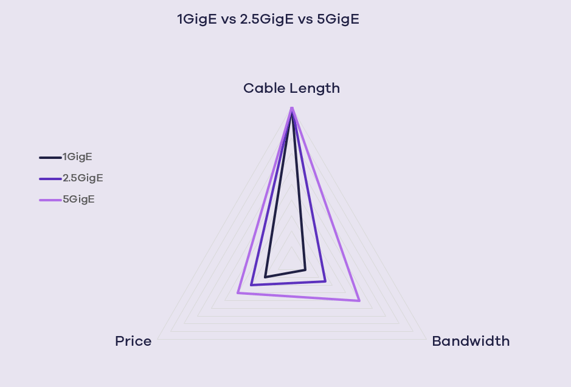 Comparing cable length, bandwidth and price across the lower GigE interfaces
Cable Distance
This part is completely even across our three contenders; all can transfer at reliable speeds at up to 100m. It's at price and bandwidth where we start to see the differences.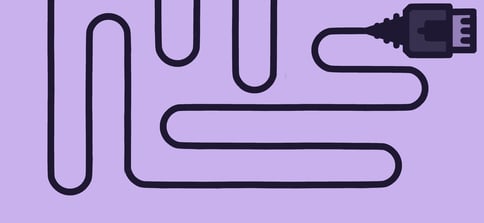 GigE, 2.5GigE and 5GigE all support cable lengths of up to 100m
Price
The cost of these low-to-medium level GigE platforms is roughly as you would expect; 1 through 5GigE are priced according to their capabilities, but you start to get more for your money at the 5GigE level. 1GigE is a very affordable platform, and as you'd expect, the bandwidth isn't exactly jaw-dropping. However, at this level, the maximum cable distance is a big plus point when comparing it with other low-cost interfaces like USB 3.2 (just 3 metres).
Bandwidth
Standard GigE delivers 125MB/s data transfer speeds, which is alone at the bottom of this comparison, and as we've covered, is better suited for machine vision applications with minimal bandwidth requirements. Perhaps more suitable for most low-power users is 2.5GigE, able to transfer 300MB/s. Again, 5GigE really starts to pull away here, able to deliver imaging transfer speeds of 625MB/s, which is really impressive considering its low price point.
Of course, 10GigE and 25GigE cast shadows over 5GigE, offering bandwidths of up to 1.25GB/s and 3.125GB/s respectively. They're ideal for power users working on demanding industrial machine vision applications – but more on that in the next blog!
A Wide World of Machine Vision Frame Grabbers
Stay tuned with this series for one more blog post on GigE as we explore these formats in greater detail, bringing you the machine vision expertise and knowledge to help make the right decisions for your machine vision system.
Future Focused Vision Systems from Clearview
Want to find out more about revamping a vision system or automating industrial processes? Look no further – get in touch with us.
Also, be sure to check out our great range of smart cameras and machine vision software over in our products section!
Here at Clearview, we have a broad range of knowledge and machine vision expertise to help you decide on the right solution for your project.
We offer friendly expertise and a huge range of industry-standard quality machine vision components for printing and packaging, robotics, industrial automation, medicine, life sciences, and the automotive industry, just to name a few.
Our experts are happy to help no matter what your question or problem may be. Feel free to get in touch with us and one of our machine vision experts will be ready to help you get going with your project.