Non-Visible Imaging: SWIR Lenses
Welcome back to this series of blogs on non-visible imaging. Last week we took a look at short-wave infrared (SWIR) imaging in machine vision systems, and a few camera recommendations for SWIR imaging.
This week, we're looking at specialised SWIR lenses so that you can make the most out of your SWIR camera.
Whether you're interested in building your own machine vision system for a project, a commercial application, or are just interested in learning more about non-visible imaging for machine vision, we hope you enjoy it!
Why Do I Need a SWIR Lens? Can't I Just Use a Normal Lens?
The short answer is yes, SWIR wavelengths can pass through common glass, so you can use a normal lens for SWIR imaging – but you won't get the best images.
Although standard lenses can be integrated with SWIR cameras (such as the ones discussed in our last blog), only specialised SWIR lenses can take advantage of your short-wave infrared camera's performance and provide the clearest image for your application.

SWIR lenses are specifically designed to operate in the above SWIR wavelength region as opposed to common visible-light lenses.
What is the difference between a SWIR lens and a normal machine vision lens?
Due to chromatic focal shift, different wavelengths will transmit through a lens at different angles depending on the construction of the lens's glass elements. Due to their differing wavelengths, different coloured light will have their own planes of best focus.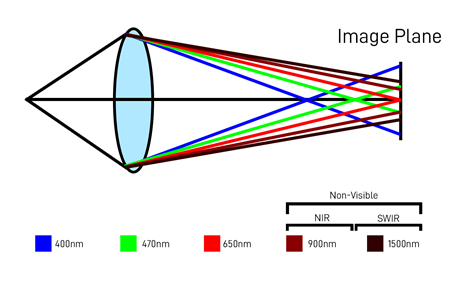 This means that a lens designed for the wavelengths typically seen in daylight may well produce more obvious aberrations due to this chromatic shift during night time imaging, and vice versa.
What this actually boils down to is the angular construction of the glass elements within the lens, with particular angles chosen to optimise light sharp light transfer of specific wavelengths. SWIR lenses simply take this concept and apply it to the SWIR spectral range.
For further reading on aberrations and distortion, check out our blog post on the same topic.
Choosing a SWIR Lens
There are many great options when it comes to choosing a lens for a SWIR imaging application. Let's run through some options.
Kowa SWIR Megapixel C-Mount HC-SW-Series

The Kowa SWIR HC-SW Lens series offers industrial C-mount lenses optimised for SWIR imaging. Available in focal lengths from 8mm-50mm, these lenses feature high transmission from 800nm up to 1900nm.
Utilising Kowa's special coating technology to help reflect visible light and absorb IR light, this range of lenses is suitable for NIR and SWIR wavelength ranges.
These lenses are a great choice for solar cell inspection, waste sorting and biological research.
Computar ViSWIR Series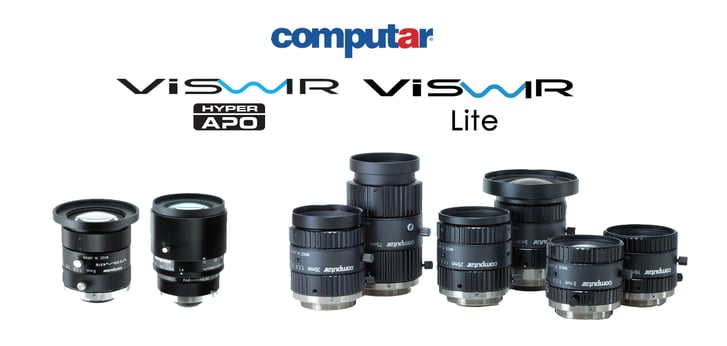 Computar offer a truly fantastic and innovative range of SWIR lenses, the ViSWIR range. They are engineered for the latest SWIR imaging sensors (IMX990/IMX991), which are now being utilised in new industrial SWIR imaging cameras, such as in the Atlas SWIR from LUCID Vision Labs.
Computar's ViSWIR range comes in two subsections: The Hyper APO and Lite ranges.
Computar ViSWIR Hyper APO Lenses
The Hyper APO ViSWIR range of lenses staggeringly offers fully corrected focus shift in visible and SWIR ranges (400nm-1,700nm).
By using ultra-low dispersion glass and low partial dispersion glass, the focus shift is minimized to just a few microns at a very wide spectral range.
This key feature makes the series ideal for multiple applications, including machine vision, UAV, and remote sensing.
Computar ViSWIR Lite Lenses
The ViSWIR Lite Series achieves a clear and precise image visible to the SWIR range by applying a multilayer coating to absorb SWIR light. The application of a multilayer coating on the metal lens parts makes it possible to minimize negative lighting effects.
The broadband anti-reflection coating is applied on all ViSWIR lens elements, allowing high and stable transmission across the 400nm-1,700nm spectral range.
This high-performance lens is designed for SWIR imaging in many applications, including Agriculture, Medical, Remote Sensing, Surveillance, and ANPR (Automatic Number Plate Recognition).
Tamron SWIR Lens Series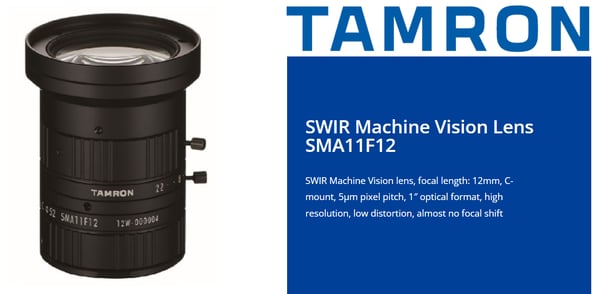 Tamron also now has a machine vision lens option for SWIR imaging, suitable for a spectral range from visible to short-wave IR.
The new SMA11F12 lens has a sensor size of 1", a 12mm focal length and a 5µm pixel pitch. With a very low TV distortion of only -1.2% and a F# of only 1.6, this lens is the perfect choice for machine vision solutions in industrial applications such as in the food and beverage industry and pharmaceutical fields.
Tamron will release two more SWIR lenses with focal lengths of 16mm and 25mm, to follow at the end of this year.
Machine Vision Solutions for Non-Visible Imaging from ClearView Imaging
That's it for this week's blog post on Short-Wave Infrared (SWIR) Imaging. Stay tuned for our next blog on Medium-Wave Infrared (MWIR) Imaging!
Looking for machine vision components? Be sure to check out our great range of machine vision components over in our products section!
Here at ClearView, we have a broad range of knowledge and machine vision expertise to help you decide on the right solution for your project.
We offer friendly expertise and a huge range of industry-standard quality machine vision components for printing and packaging, robotics, industrial automation, medicine, life sciences, and the automotive industry, just to name a few.
Our experts are happy to help no matter what your question or problem may be. Feel free to get in touch with us and one of our machine vision experts will be ready to help you get going with your project!