Non-Visible Imaging: Short-Wave Infrared (SWIR)
Welcome back to this series of blogs on non-visible imaging. This week we will be exploring the use of short-wave infrared (SWIR) imaging in machine vision systems, and our recommendations for component selection for a SWIR vision system.
Whether you're interested in building your own machine vision system for a project, a commercial application, or are just interested in learning more about non-visible imaging for machine vision, we hope you enjoy it!
What is Short-Wave (SWIR) Imaging?
SWIR imaging refers to a range on the light spectrum between around 950-2500 nanometres (nm).

Visible and IR light spectrum.
Infrared imaging is generally very effective for obtaining visual detail below the surface of an object. It's proved incredibly useful in machine vision as it's possible to obtain information that just isn't viable using visible light.
SWIR imaging is commonly applied in order to perform tasks such as identifying bruising in fresh produce such as fruit and vegetables, defect identification in silicon items, and detecting different types of plastic in waste and recycling industries.
So, how exactly does SWIR reveal these details and provide shortcuts in industrial imaging applications?
SWIR Imaging in Machine Vision Applications
Food Industry
Moisture Detection
SWIR light reacts differently with water at certain wavelengths, making concentrated moisture easier to detect.
Water absorbs shortwave infrared light in three regions: 1,400nm, 1,900nm, and 2,400nm. The more water there is, even within materials and objects, the darker the image will appear at these wavelengths.
Different moisture levels across the surfaces of fruit can indicate bruising, which means SWIR imaging has become a game changer in fruit and vegetable picking and sorting.

In the example above, normal wavelengths (left) are unable to detect any bruising but SWIR can detect bruising in the apples (right).
Foreign Objects
Different objects of a similar colour and shape can be hard to differentiate from each other when imaging with visible light.

SWIR wavelengths are absorbed and reflected differently depending on the object's material (right). This can be used to detect foreign objects that might overwise go undetected using visible light (left).
Pharmaceutical
Compound Identification
Different compounds that may look very similar under visible light tend to absorb SWIR wavelengths differently. In this example flour, baking soda, and sugar are aligned left to right.

By selecting a specific narrow band of the SWIR spectrum, it's easy to distinguish between the various materials. This is well suited for application in the pharmaceutical industry where identifying different compounds with certainty is critical.
Inspection
Heat Seals
Extremely hot features "glow" in the shortwave-infrared part of the spectrum. This is the fundamental technology behind thermal imaging.

Certain materials do not change colour in the visible light spectrum as they heat up (as seen on the left). SWIR is much more sensitive to detecting temperature changes from 100°C to over 1600°C in objects (as seen on the right).
Silicon Wafers

SWIR can be used to inspect silicon wafers as silicon becomes translucent at wavelengths around 1100nm to 1400nm (right). While visible light can be used to help detect issues on the front-side of the wafer (left), SWIR allows foreign objects or imperfections to show up more easily on both the front-side and back-side of the wafer.
SWIR Filters
Bandpass filters are a great way to ensure only SWIR light is reaching the sensor of your camera. MidOpt offer a really good range of machine vision filters, all of which are available through ClearView. Check out their dedicated SWIR filters page to learn more.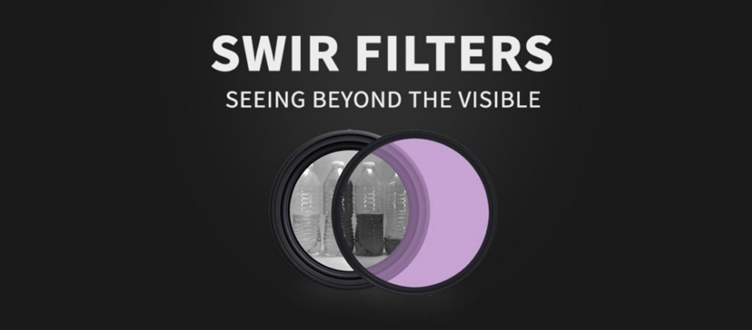 Camera Choice
It's really important to make sure that the camera, and more specifically the sensor, are suited to SWIR imaging.
As not all sensors are made for imaging outside the visible light spectrum, it's important you get this right, otherwise your vision system will not get off the ground.
The best options in our opinion are offered by LUCID Vision Labs and PhotonFocus.
LUCID Vision Labs: Atlas SWIR Camera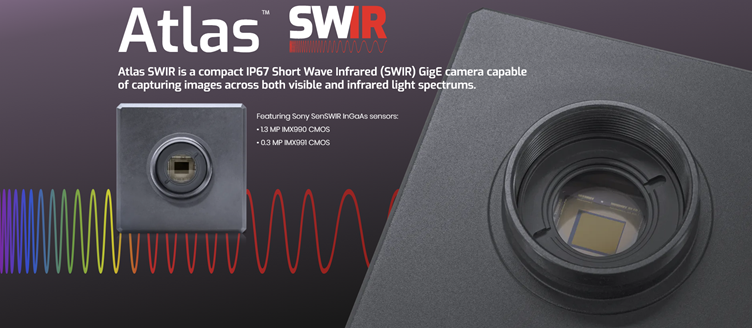 LUCID's Atlas SWIR IP67 camera is a GigE Vision PoE+ camera featuring wide-band and high-sensitivity Sony SenSWIR 1.3 MP IMX990 and 0.3 MP IMX991 InGaAs sensors, capable of capturing images across both visible and invisible light spectrums, and boasting a miniaturized pixel size of 5μm.
The camera's capability of capturing on the short-wavelength infrared light spectrum opens up a world of industrial applications with greater precision in fruit inspection and sorting, packaging, IR microscopy, semiconductor inspection, material sorting and more.
LUCID Vision Labs have broken ground with this camera, as typically speaking SWIR resolutions are around VGA level (640x480px), whereas the model of this camera is able to image in 1280 x 1024px.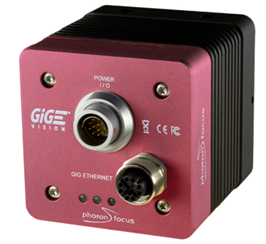 SWIR Cameras from PhotonFocus
PhotonFocus offer four SWIR models:
MV3-D640I-M01-144-G2

MV3-D640I-M01-144-CL

MV3-D320I-T01-40-G2

MV3-D320I-T01-40-CL
The camera MV3-D640I-M01-G2 (pictured above) is based on the Sofradir SNAKE InGaAs image sensors with CMOS read out. This InGaAs sensor with a full well capacity (FWC) of 1.44 Me- is optimized for high dynamic range applications and a high signal-to-noise ratio (SNR). The camera has a GigE interface.

This camera focuses on demanding applications in industrial image processing in the spectral range from 900 to 1700nm. Due to the global shutter, even high-speed applications with exposure times in the µs-area are possible.
Machine Vision Solutions for Non-Visible Imaging from ClearView Imaging
That's it for this week's blog post on Short-Wave Infrared (SWIR) Imaging. Stay tuned for our next blog on Medium-Wave Infrared (MWIR) Imaging!
Looking for machine vision components? Be sure to check out our great range of machine vision components over in our products section!
Here at ClearView, we have a broad range of knowledge and machine vision expertise to help you decide on the right solution for your project.
We offer friendly expertise and a huge range of industry-standard quality machine vision components for printing and packaging, robotics, industrial automation, medicine, life sciences, and the automotive industry, just to name a few.
Our experts are happy to help no matter what your question or problem may be. Feel free to get in touch with us and one of our machine vision experts will be ready to help you get going with your project!