Raspberry Pi Turns 10 Years Old
Welcome back to ClearView Blog. Over the next few articles, we will be discussing the important current machine vision trends, not just thinking about technological advancement, but also focusing on global factors that are impacting the world of machine vision and the industries we support.
This week we will be celebrating 10 years of the Raspberry Pi, and looking at how it has shaped and changed the world of computing for aspiring programmers, computer hobbyists, and engineers around the world.
Introduction
Since its launch in 2011, the credit card-sized Raspberry Pi has sold over 30 million units, making it by far and away the best-selling British-made computer in history. But what made it so popular, and how did the intentions behind the Raspberry Pi get forgotten about?
Initially intended as an entry-level computer for children and teenagers to learn the fundamentals of coding and programming, the Raspberry Pi was intended to make computing simple.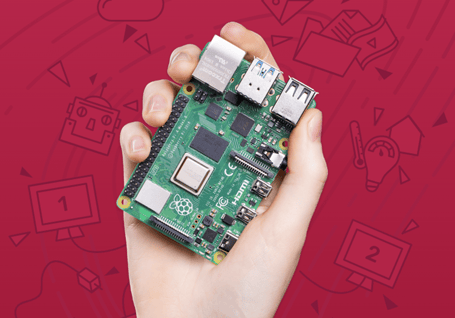 Raspberry Pi
Liz Upton, Director of Communications and co-founder of Raspberry Pi, shed light on the stripped-back design intent behind the tiny machine. "We really shy away from selling them in boxes as much as we can – we want people to look at it and understand that that's what a computer is, and it's actually very easy to get into."
Modular capability has been baked into the design of the Raspberry Pi since day one. With ports to connect a keyboard, mouse, and display, it's already a desktop computer in a tiny package. But its beauty lies in the almost limitless array of hardware components that can be plugged into it to facilitate a long list of applications – and, with Linux pre-installed, it's easy to start writing code for anything the user can imagine.
So the capability factor is there. But what was the driving factor that brought it into creation?
An Education Platform
Evan Upton, chief executive of Raspberry Pi Ltd, commented back in 2012: "we have a generation of children and young people now who are incredibly proficient computer users, but they have very little idea of what's going on under the bonnet".
So the intention for Raspberry Pi was to create a platform to catalyse computer education and create an opportunity to start building hands-on experience for budding computer scientists.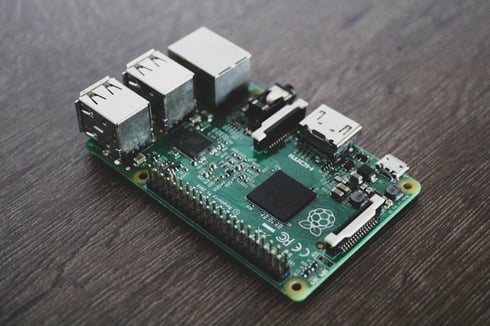 An Oasis for Computing Hobbyists
Interestingly enough, the dramatic momentum in sales for Raspberry Pi was not solely due to young minds trying it out. Huge numbers of computing hobbyists and project leaders with a need for an embedded computing board finally had what they needed. Since its inception, Raspberry Pi has been at the heart of countless amazing innovations, and there is even one aboard the international space station for astronauts to tinker with.
But the compact form factor and versatile design of the Raspberry Pi meant that it was never just going to be a toy for hobbyists. A decade ago, Evan Upton probably never predicted that his little device would go on to become a firm favourite amongst OEM's and System Integrators in industrial fields and, in turn, build the foundations of modern industrial embedded computing – but that's exactly what it did.
Raspberry Pi in Embedded Vision
Raspberry Pi, without ever intending to, paved the way for industrial embedded computing as we know it today. The 'boom' factor happened because the tiny computer works as well as a basic x86 processor for embedded computing systems. From micro-controllers to ARM-based computers, Raspberry Pi has been adapted into embedded computers for many facets of Industry 4.0.With options to plug in so many different components, it's no wonder we now see serious machine vision systems built around the Raspberry Pi.

Raspberry Pi now has a dedicated Machine Vision page
This evolution towards fulfilling embedded vision demands are in no small part due to the diverse range of models that the Cambridge company has brought out.
The Raspberry Pi 4 model B, for example, leverages a 64-bit quad-core ARM processor @1.5GHz, up to 8GB of RAM, Gigabit Ethernet and passive cooling, which makes it a real contender when it comes embedded processing power for embedded vision applications.
In a world of new applications, the compact size and low price point of this little powerhouse has without a doubt set the tone for an evolving embedded vision market, not just in the last decade, but for the years to come as well.
Finding New Talent
It has always been difficult to find new talent in computer science and engineering, so it's no wonder the Raspberry Pi initially aimed to widen the gate. As the world becomes more and more digitally-inclined, thankfully, the tide is turning – and the Raspberry Pi has helped make that possible in no small way.
At ClearView, we want to mirror the enthusiasm set by Raspberry Pi for computer education. Machine vision is so often the key to unlocking complicated technical challenges – all that is required is the know-how and no short supply of, let's face it, very cool technology. That's why we've arranged STEM days at schools, and are always on the hunt for fresh talent in computing, regardless of experience.
A Male-Dominated Industry
Part of the issue with low numbers of computer scientists over the years is due to the lack of diversity in gender in this field. Stemming from an archaic notion that 'women aren't as good as men at writing code', there has always been a huge imbalance in the ratios of women to men in computing.
"It's such nonsense", says Liz Upton, speaking on the expectation for girls and women to perform stereotypically gendered interests. "It's arrant nonsense to suggest that these are things which are specially interesting for girls to do. They're not. You just need to make it so it's not weird."
No matter who you are, where you're from, or what you've faced – if you're interested in helping create great vision systems and working with exciting technology, our door is always open to promising minds in software and applications.
Embedded Vision Solutions from ClearView Imaging
Want to find out more about revamping your vision system or automating your industrial processes? Look no further – get in touch with us.

Also, be sure to check out our great range of machine vision components over in our products section!
Here at ClearView, we have a broad range of knowledge and machine vision expertise to help you decide on the right solution for your project.
We offer friendly expertise and a huge range of industry-standard quality machine vision components for printing and packaging, robotics, industrial automation, medicine, life sciences, and the automotive industry, just to name a few.
Our experts are happy to help no matter what your question or problem may be. Feel free to get in touch with us and one of our machine vision experts will be ready to help you get going with your project!