Hardware Evolution: New Sensors, New Interfaces, Embedded Vision Gains Traction
Welcome back to ClearView Blog. Over the next few articles, we will be discussing the important current machine vision trends, not just thinking about technological advancement, but also focusing on global factors that are impacting the world of machine vision and the industries we support.
This week we will be taking a look at how machine vision hardware is advancing in current times, and the impact this is having on technologies on technologies like embedded vision.
Introduction
Most information technologies can be broken down into two key parts: hardware and software. As boundaries are pushed in software, new hardware must come to support new digital capabilities. As Hardware advances, the boundaries of software are pushed in order to fully exploit the physical capabilities of the hardware. It's a symbiotic relationship that defines growth within the technological world.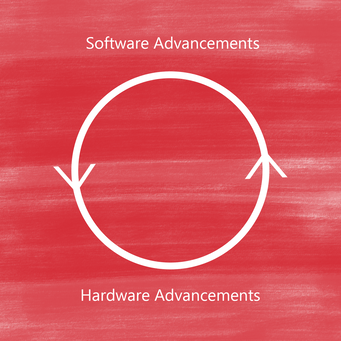 As outlined previously in this series, software has come on leaps and bounds in recent years, and with new developments in deep learning and advancements such as code generation features in vision SDKs, it's now faster and easier to get ahead of the curve with vision systems.
So how is hardware catching up and broadening machine vision horizons?
Key Areas of Hardware Innovation for Machine Vision
Let's start by outlining some key areas of technological advancement.
New Interfaces
The GigE Vision Interface
GigE vision, first introduced with GenICam in 2006, has come a long way since its inception. With 10GigE and 5GigE technologies being developed in the last 15+ years, we now need to look at current developments to understand how we may well see 25, 50, and even 100GigE imaging technology develop and enter use.
What do the Numbers Mean?
The numbers in front of GigE are about bandwidth. Standard GigE (or '1GigE') is capable of 1Gbps data transfer speeds. Accordingly, 5GigE and 10GigE bandwidths are capable of 5Gbps and 10Gbps transfer speeds respectively.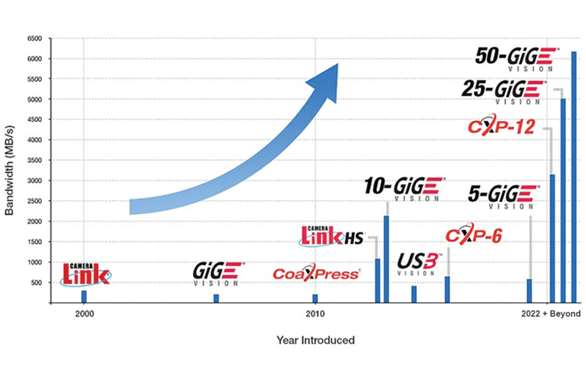 Following this understanding of bandwidth, we know that when 25GigE becomes mainstream, this will be a colossal leap from 10GigE.
USB Vision Adoption
The USB3 Vision standard became so popular amongst the machine vision industry due to the fact that USB ports are the bread and butter of most computers, namely PCs, laptops, and embedded systems.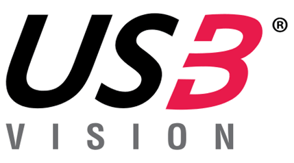 USB3 Vision capabilities have grown fast since entering usage in machine vision. USB 3.0 initially offered 5 Gb/s back in 2013, followed by 10 Gb/s for USB 3.1 in 2015 and 20 Gb/s for USB 3.2 in 2017, with the addition of multiple data lanes.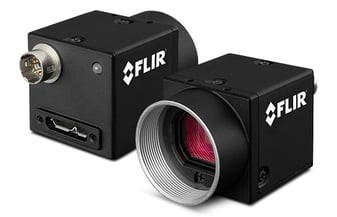 Teledyne FLIR USB3.2 Blackfly S camera
USB 4.0 seeks to dramatically improve USB3 Vision speeds, says Eric Gross, USB3 Vision chairman. "When USB 4.0 came out, not only did it increase speeds to 32-40 Gb/s, but also it introduced another technology — Thunderbolt 4 — to the standard. Thunderbolt is even higher performance than USB by itself, encapsulating a new protocol that lets you utilize PCI Express bus under the hood."
The higher the bandwidth capability of the cable and interface, the more doors are unlocked for hardware advancement within the cameras that use the interface. This means higher megapixel resolution, better contrast, more frames per second. It's not just software advancement that gives way to hardware advancement – oftentimes hardware advancement enables hardware advancement, such as in this case.
New Sensors
Machine Vision Camera Sensors from Sony
It's not just outside the camera that has been evolving, but inside the camera too.
Ever since Sony launched Pregius ('precision global shutter') sensors, machine vision camera manufacturers have abandoned CCD sensors and switched to CMOS. You can read more about this pivotal moment here.
Now, once again, Sony Semiconductors are paving the way for impressive new advancements in camera sensor technology.
New Sony SenSWIR InGaAs Sensors
The new wide-band, high-sensitivity IMX990 and IMX991 sensors from Sony mark a shift in non-visible imaging, as they are able to detect short-wave infrared as well as visible light in unprecedented resolution. The IMX990 has a native resolution of 1.3MP or 1280x1024px, boasting a miniaturized pixel size of 5μm. This level of detail dwarfs previous SWIR sensors' VGA capabilities.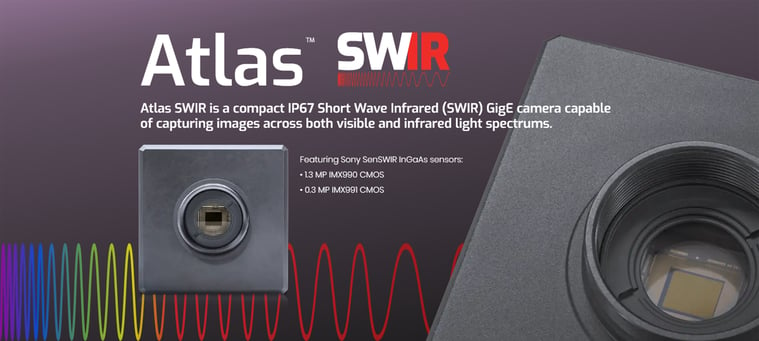 These sensors are implemented by LUCID Vision Labs' new Atlas SWIR cameras, which deliver fantastic SWIR imaging performance thanks to Sony's sensors.
Embedded Vision Gains Traction
A trend we are seeing become more and more popular is embedded vision, and with products like the Teledyne FLIR Quartet and Matrox Iris GTX, it's clear to see why.
Teledyne FLIR Quartet
The Quartet is a carrier board which enables the easy integration of up to 4x USB3 machine vision cameras at full bandwidth. The Nvidia Jetson deep learning hardware accelerator allows for a complete decision-making system on a single compact board.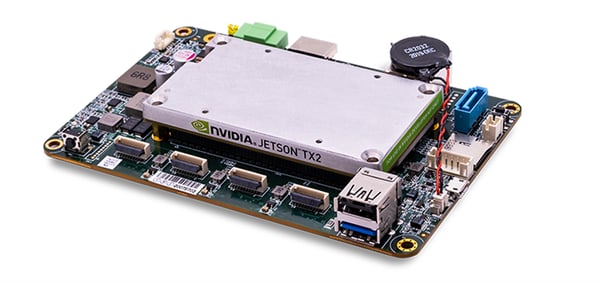 This custom carrier board provides a fully integrated SOM design which optimizes size and cost by eliminating the need for peripheral hardware and host systems.
Matrox Iris GTX Smart Camera
If you're looking to use an all-in-one solution, the Matrox Iris GTX is a fantastic option. With an Intel Atom x6211E dual-core 1.3GHz processor, as well as Intel UHD Graphics, supported by 4GB of memory and a 32GB storage drive on board, this beast of a smart camera can tackle a whopping list of machine vision functions.
There's also IP67-rated housing, sturdy M12 connectors with Modbus and TCPIP functionality, and with display output, you can run Design Assistant X for image processing programmes.
Want to see the Iris smart camera in action? Check out our demo below:
Embedded Vision Solutions from ClearView Imaging
Want to find out more about revamping a vision system or automating industrial processes? Look no further – get in touch with us.
Also, be sure to check out our great range of smart cameras over in our products section!
Here at ClearView, we have a broad range of knowledge and machine vision expertise to help you decide on the right solution for your project.
We offer friendly expertise and a huge range of industry-standard quality machine vision components for printing and packaging, robotics, industrial automation, medicine, life sciences, and the automotive industry, just to name a few.
Our experts are happy to help no matter what your question or problem may be. Feel free to get in touch with us and one of our machine vision experts will be ready to help you get going with your project!