Sony 4th Gen Pregius S Global Shutter CMOS Sensors
Building upon the excellent performance of the previous three generations, Sony has continued to improve the Pregius family with the recently launched 4th generation of sensors, pushing the laws of physics harder to maintain the same crisp image quality in an even more compact format. The 4th Generation of Sony Pregius sensors reduce system cost and increase throughput.
Sensor Lineup
Sony Pregius S sensors range from 5.1MP all the way up to 24.5MP, which enable machine builders and system integrators to increase camera resolutions while minimising system complexity and cost.
The new series of sensors follows the previous line-ups with its high-speed and standard-speed versions, to accommodate the cost and performance of any machine vision application.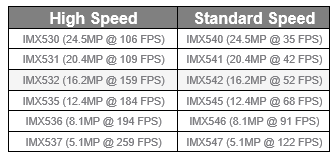 Lower cost with great imaging performance
The new generation of Pregius S sensors reduces the pixel size to 2.74 µm, allowing the use of compact, inexpensive optics and allowing higher resolutions of up to 24.5MP in sugarcube format cameras, with C mount lenses. The backside-illuminated pixel design allows incoming light at higher angles, producing improved image quality across the whole field of view with better uniformity when using lower-cost optics.
The backside illumination design enables shorter exposure with less powerful light. The new generation of Sony Pregius sensors achieve an exceptional quantum efficiency, similar to the peak QE of the 1st generation sensors while offering middle ground performance between 1st and 3rd generation. The smaller pixel size also helps reduce noise, allowing for the use of higher gain across the full light spectrum, and achieving excellent imaging performance for NIR wavelengths.
Sony 4th Gen Technology benefits and applications
The 4th generation of sensors not only cites improvements to the pixel design, but also brings advancements in image processing and hardware, as can be seen in our article comparing the 4 generations here. It produces High Dynamic Range (HDR) imaging by using the low gain and high gain images taken within the same frame and combining them on the sensor. It also provides a higher accuracy thermometer for better thermal management and can output a signal that mirrors the actual input trigger for an exposure.
Metrology applications can benefit from the higher pixel density of the 4th generation to produce more accurate measurements of large objects. The great NIR performance will also help semiconductor and process control applications to see smaller defects further below the surface. Furthermore, the compact form factor and support for smaller lenses will allow for innovative, space-saving designs for handheld and medical devices.
All the above information has been carefully detailed in the data sheets of our cameras, available on our website to facilitate the decision when choosing the optimal machine vision camera model for your industrial application.